We had the pleasure of carving this wildlife tree sculpture in our family's home town of Winsor, Ontario. Creating a massive, 16 foot tall and over 3 foot wide, Pin Oak tree over 7 days carving native Windsor wildlife.
The YouTube Video: https://youtu.be/6xx0hkMWXLU
Paul Giroux, City Forester/Manager of Forestry & Natural Areas commissioned us to transform this majestic tree into a work of art depicting a selection of wildlife from the local area.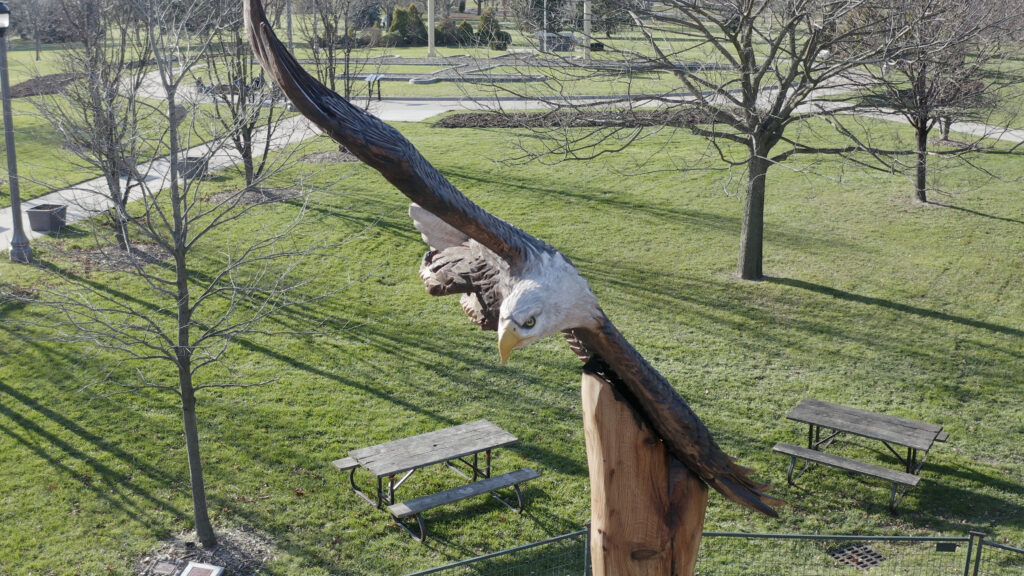 The wildlife tree sculpture we came up with has a beautiful soaring eagle that was carved out of the side of the tree. a fox snake, a barn owl, a pileated woodpecker a red headed woodpecker, brown bats, a Blanding's turtle, a sturgeon, a mud puppy, a swallowtail butterfly and some squirrels!
This was quite the project with all the scaffolding but we managed to make it worked and it turned out beautiful. All the features on the tree were carved in place except for the bald eagle.
The Challenges of carving this wildlife tree sculpture
-carving the tree inside the tree was difficult because we needed to plan space for every feature on the tree while keeping the tree even and realistic.
– height was a bit of an issue given wind the weight of the pieces we were cutting off, it took some good sense to remove the top wood safely. Along with attaching the eagle up top and the engineering involved.
-before finishing, the grain was so strong everything blended together and it was hard for the public and clients to see what we were making but once we burnt and put sealer on the shadows came out then we added color which really created the contrast needed.
-There was a couple rot pockets we needed to plan around and general strength integrity was a priority but we also allowed for some fragile negative space just like there always is in life.
-Getting very specific anatomy and proportions to allow for wildlife experts to identify each individual animal, bug etc.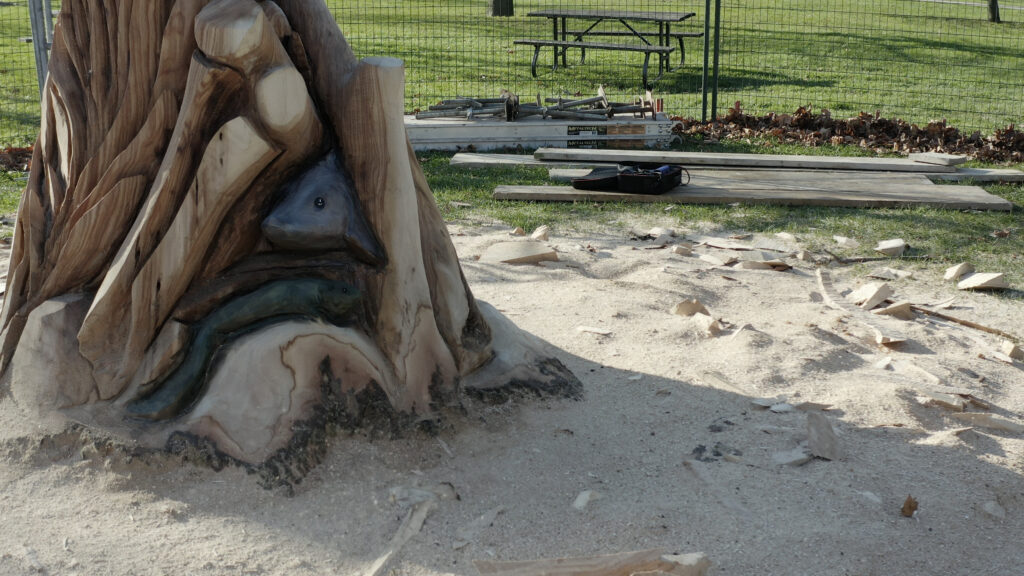 Checkout our previous blog post: https://carverkings.com/tag-team-carving-whimsical-barn-owl-garden-sculpture/